Start a Maize Chips Making Business
A corn chip is a snack food made from cornmeal fried in oil or baked, usually in the shape of a small noodle or scoop. Corn chips are thick, rigid and very crunchy. Corn chips have the strong aroma and flavor of roasted corn, and are often heavily dusted with salt .Corn chips are a snack food made from corn. The corn is made into dough and formed into shapes such as scoops or triangles, and then the corn chips are baked, deep fried, or simply dried.

For the corn chips


v

Mix the maize flour and plain flour with 1 tablespoon of oil and salt.
v

Make dough by adding hot water. Knead very well.
v

Roll out the dough into small circles with the help of a little plain flour. Prick lightly with a fork.
v

Deep fry lightly in oil.
v

Remove from the oil and sprinkle salt while hot.
v

Arrange the corn chips in a plate.
v

Just before serving, spread the salsa dip on top and sprinkle the chillies thereon.
v

Warm the cream and cheese together. Add a pinch of salt and spread over the corn chips.
v

Put under the grill for a few seconds.
Corn has gathered a diverse reputation in the U.S. For some people, corn is a "staple" food that provides the foundation for tortillas, burritos, or polenta. For others, corn is a "snack" food that comes in the form of popcorn and corn chips. For still others, corn is a "special summertime food" that is essential at barbecues and cookouts. But regardless of its reputation, corn is seldom considered in the U.S. as a unique source of health benefits. Yet that's exactly what research results are telling us about this amazing grain.
While it might sound surprising to some people who are used to thinking about corn as a plain, staple food, or a snack food, or a summertime party food, corn is actually a unique phytonutrient-rich food that provides us with well-documented antioxidant benefits. In terms of conventional antioxidant nutrients, corn is a good source of vitamin C as well as the mineral manganese. But it is corn's phytonutrients that have taken center stage in the antioxidant research on corn. When all varieties of corn are considered as a group, the list of corn's key antioxidant nutrients appears as follows:
Antioxidant Phytonutrients in Corn
anthocyanins
beta-carotene
caffeic acid
coumaric acid
ferulic acid
lutein
syringic acid
vanillic acid
protocatechuic acid
zeaxanthin
Anyone who has eaten fresh corn-on-the-cob or freshly popped popcorn knows how satisfying this food can be to chew. Some of that satisfaction comes from corn's fiber content. At 4.6 grams of fiber per cup, corn is a good fiber source, and in research studies, corn intake is often associated with good overall fiber intake. For example, persons who eat popcorn tend to have 2-3 times more overall whole grain intake than persons who do not eat popcorn, and they also tend to have higher overall fiber intake as well.
Corn fiber is one of the keys to its well-documented digestive benefits. Recent research has shown that corn can support the growth of friendly bacteria in our large intestine and can also be transformed by these bacteria into short chain fatty acids, or SCFAs. These SCFAs can supply energy to our intestinal cells and thereby help lower our risk of intestinal problems, including our risk of colon cancer. The amount of corn fiber analyzed in recent studies has been relatively high at 12 grams per day. That's the same amount provided by about 2.5 cups of fresh corn. While that amount might be more than any person would consume in a single meal, it's an amount that a person might easily eat over the course of several days. We suspect that future research will demonstrate the risk-reducing effects of smaller amounts of corn consumed over a longer period of time.
Given its good fiber content, its ability to provide many B-complex vitamins including vitamins B1, B5 and folic acid, and its notable protein content (about 5-6 grams per cup), corn is a food that would be expected to provide blood sugar benefits. Fiber and protein are key macronutrients for stabilizing the passage of food through our digestive tract. Sufficient fiber and protein content in a food helps prevent too rapid or too slow digestion of that food. By evening out the pace of digestion, protein and fiber also help prevent too rapid or too slow uptake of sugar from the digestive tract up into the bloodstream. Once the uptake of sugar is steadied, it is easier to avoid sudden spikes or drops in blood sugar.
Consumption of corn in ordinary amounts of 1-2 cups has been shown to be associated with better blood sugar control in both type 1 and type 2 diabetes. Fasting glucose and fasting insulin levels have been used to verify these blood sugar benefits. Interestingly, in elementary school-age and teenage youths already diagnosed with type 1 diabetes, whole grain cornbread has emerged in one study as the whole grain food with the highest acceptability among all whole grain foods. Youth participants in the study who consumed whole grain cornbread were also less likely to consume fast foods.
In countries outside of the U.S., numerous studies have examined the ability of corn to improve overall nourishment, especially when combined with legumes. Researchers conducting these studies have been interested in absorption of minerals like zinc, calcium and iron, as well as overall energy and protein intake. Maize (corn)-bean meals (typically consumed in the form of porridge that combines these foods) have been shown to help improve overall nutrient status and to help provide outstanding nutrient richness in the diet.
One fascinating new area of research on corn involves its potential anti-HIV activity. Lectins are special proteins found in virtually all foods (and for that matter, in virtually all organisms) that can bind onto carbohydrates or onto carbohydrate receptors that are found on cell membranes. In the case of some micro-organisms (including the HIV virus), the binding of lectins onto sugars has been shown to help inhibit activity of the virus. One specific lectin found in corn (called GNAmaize) has preliminarily been shown to possess this HIV-inhibiting property. Of course, much more research is needed to determine the relationship between everyday consumption of corn as a whole food and HIV infection risk.
Corn
1.00 cup
149.00 grams
143.04 calories

Nutrient

Amount

DV
(%)

Nutrient
Density

World's Healthiest
Foods Rating
Corn Chips Making Machine
Since 1996, Jinan Dayi Extrusion Machinery Co., Ltd. is a professional manufacturer of extrusion snack machinery, foodstuff and packaging machinery.
corn chips making machine use corn powder, cereal powder as material
double-screw extruder
SLG65-CJ/DJ
Capacity:100~160kg/h
Corn Chips Making Machine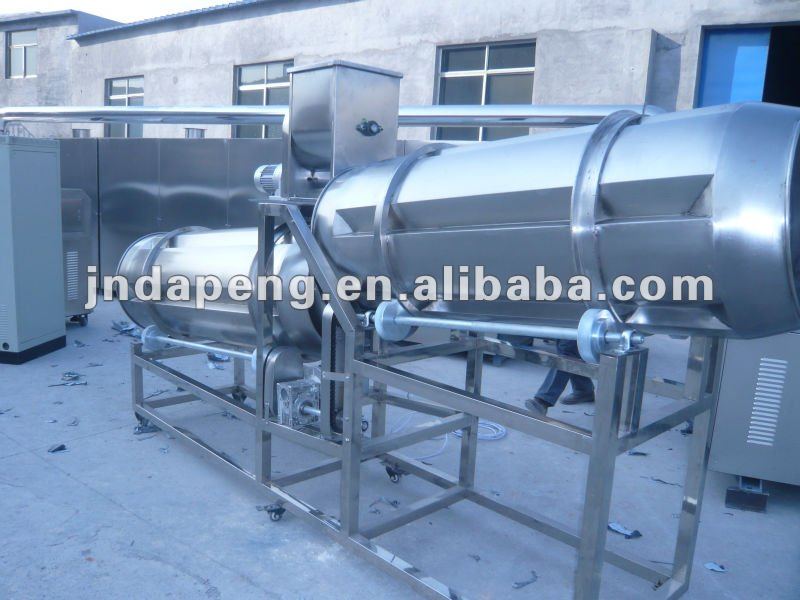 1. produce breakfast cereal which is one kind of nutritional convenient food which is produced by this process line
2. use grist as basic material, with different shapes, such as, granule, flake, animal, etc.
3. One outstanding characteristic of the breakfast cereal is that it contains abundant compound carbohydrates and dietary fibre, strengthens lots of microelements, such as vitamin and mineral, and also can be added with cocoa and sugar, like honey and maltose.
4. Such breakfast cereal can be drunk directly after mixed into coffee, milk, yoghourt or functional drink. Children can eat breakfast cereal as sweet crispy snack.
Model

SLG65-CJ
Breakfast cereal process line

SLG65-DJ
Breakfast cereal process line

Installed power

87.97kw

90.56kw

Power consumption

57kw

59kw

Capacity

100-150kg/h

120-160kg/h

Dimension

35000×2000×2600mm
Corn chips Manufacturers India
Category : Corn Chips Manufacturers India
Address : 3A, Saraswathy Puram II Street,Chromepet,Chennai-600044, Tamil Nadu, INDIA
Mallabhum Agri Biotech Pvt. Ltd

.
Address : 1/A, Bipin Ganguly Road,Dum Dum-700030, West Bengal, INDIA
Category : Corn Chips Manufacturers India
Address : 1143, Hari Phatak,Mhow-453441, Madhya Pradesh, INDIA
Phone : 91-7324-270001
Mobile : +919826161733
Fax : 91-7324-275396
For more details