(273).Start a Vegetable Oil Refinery Business
Vegetable oil and fat resources are indispensable to mankind as a source of nutrient and
industrial raw materials. Crude vegetable oil obtained from various oil milling units is
further refined before use for edible purposes. Refined edible oil is a process where free fatty
acids are volatized, condensed and recovered simultaneously with vacuum de-colouring
operation.
Sometimes, refining process is limited to simple physical treatment such as heating and
filtering in regard to refining of superior quality of crude oil. Generally the cake in the oil is
separated by centrifuge, decolouring by active clay and steam deodorization at high
temperature in vacuum up to 5 mm. Hg. This is not a location specific project and can be set
up at a place where crude oil is easily available.
PRODUCTS
It is possible to refine edible oils from crude groundnut oil, sesame oil, mustard oil etc. In
this project, these three crude edible vegetable oils have been considered for refining
purposes.
MARKET POTENTIAL
The importance of edible refined vegetable oils has been appreciated and ambitious plan has
been chalked out to increase production of edible refined vegetable oils, including soya bean
110oil, by the Government of India in the previous Five Year Plans. The demand for refined
edible vegetable oils has increased in the consumer market. With growing population,
increase in the disposable income and overall trend of consumerism, demand for edible oils is
shooting up year after year. The country still imports large quantities of crude edible oil and
the Kandla port of Gujarat is active in such imports. The domestic production has gone up
during last few years but there still exists a gap between demand and supply which results
in large imports. Thus a new vegetable oil refinery has got good potential.
MANUFACTURING PROCESS
Special pre-treatment steps which are essentially a combination of de-gumming and blending
under special operating conditions, eliminate all impurities and render oil fit to be processed
at elevated temperature under vacuum. Various steps involved in refining are
(I) Super cleaning
(2) Contobleaching and
(3) De-acidification.
All these processes are very well standardized and practiced in the country since long. The
average recovery is 90%
Raw and Packing Materials
The major raw materials required are crude groundnut oil, crude sesame oil and crude
mustard oil. The state of Gujarat is famous for crude as well as refined vegetable oils with
centers like Kadi, Rajkot, Gondal, Amreli, Dhaari etc. engaged in production of various edible
oils round the year. Thus procuring adequate quantity of crude oil will not be a bottleneck.
Other materials like phosphoric acid, citric acid, bleaching powder etc would be available
from the nearby trading centres. Aluminum tins or plastic jars of different capacities along
with corrugated boxes, labels, and box strappings would be the packing materials.
Edible/Vegetable Oil Refining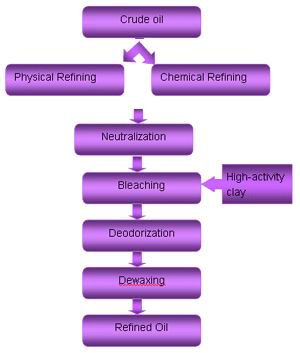 Edible/vegetable oil refining is a step by step process. Refining oil removes phospholipids, pigments, off-flavors, free fatty acids and other impurities. The entire oil refining plant process comprises degumming/neutralization, bleaching, deoderization, and winterization. Chemical refining is performed in order to remove the fatty acids from the crude oil that is extracted from the seeds. These are further neutralized with the use of caustic soda. This results in the removal of sodium soaps by batch settling or centrifugal separators. The neutral oils are then bleached and deodorized.
Apart from chemical refining, another method that is used for edible oil refining is physical refining. Through this method, the free fatty acids are removed through the process of distillation in one stage of deodorizing. In order to come up with effective results, the crude oil should be thoroughly degummed. This is not applicable with some oil like the oil extracted from cottonseeds. All kinds of refining methods are done with the help of various equipment and machinery, and are used to refine almost all kinds of oil extracted from oil seeds like sunflower seeds, linseeds, groundnuts, sesame seeds, and mustard seeds, etc.
Physical and chemical refining is defined according to the technology used. Physical refining means the removal of gum in oil via the process of degumming, a special method for removing FFA in the process of deodorization by steam. Chemical refining, however, means chemically removing FFA (acid-base neutralization). Gum and soap produced is then separated by centrifuges.
Features of Physical Refining

High refinement rate; less oil loss

No waste water discharged

More FFA distilled

Especially suited for highly acidic oils, and those of low gum content
Features of Chemical Refining
Excellent adaptability and fewer requirements for high oil quality

The finished oil is consistent and stable

Less bleaching earth necessary compared with physical refining
Process of the Oil Refining Plant
With 10 years' experience in manufacturing and exporting complete oil mills as well as a variety of oil mill machinery, KMEC is an expert in edible oil refining. In the oil refining plant, there are several steps to follow.

With 10 years' experience in manufacturing and exporting complete oil mills as well as various oil mill machinery, KMEC is an expert in edible oil refining. In the oil refining plant, there are several steps to follow.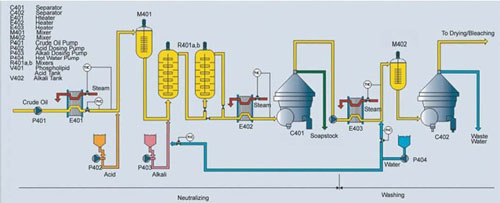 The pretreated oil is subjected to alkali refining. The caustic soda reacts with free fatty acids (FFA) present in the oil and forms soap stock. The soap stock is then removed by a centrifugal separator and oil is washed with water for the complete removal of soap stock. The wash water is separated out by centrifugal separators.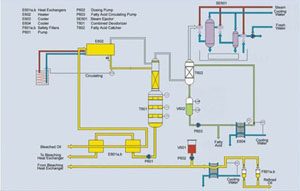 As the name suggests this process is meant for the removal of odor. Every vegetable oil has its own distinct natural odor. During neutralization and bleaching, unpleasant odors are imparted in the oil, thereby making it essential to remove this odor. Deodorization is essentially a process to remove odiferous matter. The operation is carried out at a high temperature by injecting open steam and maintaining high pressure at which time all odoriferous matter is distilled and removed to barometric condensers through a vacuum system. The resultant oil is odorless – deodorized oil.
The neutralized oil is treated with bleaching earth/activated carbon for the removal of colored pigments. The bleaching agent is filtered out in vertical pressure leaf filters. A multi-part design ensures uniform consistency in color with minimum bleaching agent requirements. The bleaching line is versatile and adaptable for all varieties of vegetable oil.
Oils like sunflower oil or maize germ oil (corn oil) have waxes present in them. At low temperatures these waxes give a hazy appearance to the oil. It is therefore essential to remove these waxes prior to bottling and marketing of the oil.
Some of the equipment and packing machinery suppliers are as under:
1. Sifter International, Plot No. 83, Sector 6, Faridabad-121006
Tel. No. 2231154-4540, Fax: 2230039
2. Osaw Agro Industries Pvt. Ltd., Osaw Complex, Jagadhri Road, Ambala Cant.-133001,
Tel. No. 2699167-354-547, Fax: 2699018
3. Forsberge Agritech (I) Ltd, GIDC Estate, Makarpura, Vadodara
4. Chempro, Engg. and Consultants, 43, Sukhshine Complex, Sunrise Park, Nr. Drive In,
Ahmedabad-380054. Tel No. 26851135/9010.
5. Container Industries, C-299, Ghatkopar Industrial Estate, 72 LBS Marg, Mumbai-400080