Start a Frozen Food Business
(190) Start a Frozen Food Business
Marketers of frozen convenience food have found themselves caught between a rock and a hard place during the economic downturn. Though fresh convenience food has gained through positioning that casts it as a less expensive alternative to restaurant food during a time of recession, frozen convenience food is frequently viewed as a more expensive, less fresh alternative to cooking from scratch at home. The frozen food categories that have been able to grow substantially in this environment are therefore the ones that have been able to elude this paradigm.
Specifically, the mammoth frozen pizza category and the spunky hand-held breakfast category have both found a way to go head-to-head with restaurants; and the prepared vegetable category has been able to triumph on the freshness front via the development of steaming techniques. According to Packaged Facts, these three categories have led the way sales-wise, enabling an otherwise ambivalent market for frozen convenience foods to grow by a modest 2.0% in 2010 to reach sales of $16.8 billion. Packaged Facts expects that marketers in other categories will soon adopt similar strategies, driving sales of fresh convenience foods up another 10% by 2015, to $18.6 billion.
The Frozen Food Industry
Food is a basic necessity of life and it is the endeavour of most governments in the world to make it their top priority to feed every mouth in their land.
But with short supplies in some regions, this is not an easy task. Resources are often unevenly distributed, with some food products available in abundance in some countries and not so in others. Seasonal variations also affect the availability of certain fruits and vegetables.
In the absence of facilities to preserve, process and export food products, there is bound to be over-supply and food spoilage in some regions while people in other regions will not have access to certain food products. A thriving food industry across the world is now tackling this problem.
According to recent studies, the frozen food industry has been witnessing phenomenal growth during the present economic downturn, as consumers are looking for cheaper alternatives to fresh fruits, vegetables, and meats. Even the military depends on frozen food to a great extent, especially in camps located in remote areas.
Japan had conquered most of Southeast Asia during World War II, effectively cutting off America's supply of tin canned goods. Canned foods were required by the military, which suffered as a result. In came frozen food to replace canned food. Spinach was the first frozen vegetable to be sold.
Most vegetables and fruits are picked, packaged and frozen within 6 hours of being harvested, and hence contain more of certain vitamins than the fresh ones we buy from the market. These may have been harvested five or more days before they are actually cooked, since they typically spend more time in refrigerators at home as well.
India is a large producer of food and is offering different opportunities and business propositions in food and food processing technologies, skills and equipment. The food-based industries encompass canning, dairy and food processing, specialty processing, packaging, frozen food/refrigeration and thermo-processing.
Products which come under the frozen food industry are fruits, vegetables, fisheries, milk products, meat, poultry and other packaged and convenience foods. Although it is a huge producer of food products, India still has immense untapped potential in the frozen food export industry. The demand for Indian recipes from the Indian Diaspora settled across the globe has served as an impetus to development of the frozen food industry in recent years. Vegetables like drumsticks and okra and prepared food like chapattis and paratas are nowadays available in frozen form in neat packets all over the world.
Organizations like Ari Freeze Foods in India are engaged in food processing and exporting. Freeze dried fruits, vegetables, dairy products, mushrooms, fish etc., are packaged specially for export in high quality economical packaging to maintain quality standards, which makes business sense in a fast growing industry.
Agri Freeze Foods uses a single process that enables food products with small particulates to be packed optimally, resulting in long shelf-life and high quality.
Frozen Food Industry in Malaysia
The entry of more manufacturers in the frozen food industry in Malaysia and their aggressive advertisement campaigns aired in television and other media have spawned a highly competitive market in the country.
The increased urbanization has further boosted the food industry, with a growing consumer base interested in trying out newer food types from other parts of the world. In 2009 Malaysia witnessed a remarkable growth in frozen processed food sales, which grew by two percent along with growth in sales of chilled processed food and dried processed food.
Although most Malaysian companies are medium or small sized, there are also large ones such as Yeo Hiap Seng, Nestle and F&N. The country imports more frozen food than it exports, as the industry suffers from a shortage of raw materials, insufficient technology development and research.
The younger generation has much influence on the consumption of food products and they seem to be inclined towards preprepared convenience meals or frozen food, which may be considered unhealthy by the older populace. Breakfast cereals are gradually replacing traditional cakes and bread in most households, indicating changing food habits. Although fresh food is preferred, the presence of microwave ovens and fridges has encouraged households with women working in offices to go for frozen pre-prepared food and frozen products.
The Malaysian market for processed foods has reached the mature phase, hindering high sales growth. However, it is possible to achieve further sales growth by launching new products to leverage the huge market potential and a varied population.
Frozen pastries, vegetables, meat, sausages and other derivatives form a significant part of the Malaysian processed food industry. In the 1990s many international retailers like Carrefour, Tesco, Dairy Farm International and Jusco entered the Malaysian market. Most of the hyper and super markets sell imported frozen food.
The ASEAN Australian New Zealand Free Trade Agreement implemented in January 2010 reduced import tariff restriction on goods, thereby reducing food tariffs. Several restrictions with respect to frozen food packaging and labeling regulations have been stipulated by the government, with strict guidelines according to religious sentiments to control the import industry.
Many companies like Lucky Frozen Sdn Bhd have grown remarkably, keeping in step with demand while striving to maintain freshness, quality, competitive pricing and excellent customer service. They supply imported chilled frozen beef, lamb, poultry, venison and seafood, besides frozen vegetables, chilled and frozen dairies that are guaranteed for freshness and quality.
Lucky Frozen also owns cold storage facilities, enabling it to control product quality, costs and delivery logistics, thereby ensuring customer satisfaction. It operates from branches located in Kuala Lumpur, Penang and Langkawi. To further augment the frozen food business, Lucky launched a frozen confectionary line created to cater to Malaysian consumers' tastes and preferences.
Thailand in Deep Freeze Business
Frozen foods form a significant part of the Thai food export industry, which has long been well-known for its Thailand Frozen Fish. Fish and cooked fish products are favorite frozen foods exported from the country besides frozen meat and fruit products.
Thai frozen meals cooked in Thailand, quick-frozen and exported, are in great demand. Supermarkets, consumers and catering companies prefer ready-cooked Thai delicacies as they are ready to eat after defrosting and heating. In a fast-paced modern world with so many time restrictions, ready-to-eat meals are in and if they are delicious Thai food, the attraction is great indeed. The shelf-life of such products is increasing, and strict quality control ensures their safe consumption even for health-conscious people.
Such a lucrative market is being leveraged by Thailand-based companies which are launching ready-to-cook products like frozen shrimp and fish fillets, along with ready-to-eat foods like different menus of rice boxes.
CP Ready Meal is a large contender in the Thai market which distributes its frozen food products comprised of snacks and meals in its own convenience stores. It also supplies Chinese and Japanese foods. Japanese menus sold include teriyaki grilled salmon and rice, and Japanese yellow pork curry and rice, while the Chinese menu features a noodles section with wanton soup and seasoned noodles.
The "CP Ready Meal" products were launched based on periodic and continuous research on consumer behavior based on the company's strategy of perpetual product development.
S&P, another contender in the frozen food industry in Thailand, has leveraged its popularity in the restaurant business to enter the new frozen ready-to-eat food market. The "Easy Meal" brand is another brand from Suraphon Foods, a production and export company for frozen seafood.
Easy Meal from Suraphon Foods comes in three types, encompassing rice, snacks and frozen ready-to-eat meals for kids (which gets special focus). The main ingredient for all products is seafood, as the company is essentially a seafood exporter.
"Tuppy" Rice Box from P.F.P. is yet another frozen menu provider. The company produces and distributes processed food from frozen fish and meats in various product styles, chiefly for export. The company caters as well with greater emphasis to the domestic market, as demand is set to grow further.
Prantalay, another company, makes new innovative frozen ready-to-cook and readyto-eat foods. In 2010 the company unveiled a project called "Good Health, Good Brain Nationwide with Prantalay 2010" to build their brand.
The new frozen ready-to-eat food market is developing fast and it is in the hands of manufacturers to study consumer preferences and satisfy their wants, while at the same time ensuring product quality by following strict guidelines. As food is an obviously important part of everyday life, it does not make sense to try to make quick profits by compromising on quality when the supplier can readily be wiped out of the market due to 'false promises.'
With evolving tastes and preferences owing to the intermingling of populations and increased travel to foreign lands, menus need to be updated continually to make a brand successful. Products and their launches need intense media coverage in the form of advertisements, point-of-sale promotions, small quantity packaging and sample tasting promotions in order to enter consumer kitchens.
The market being large and varied, it gives immense opportunities for manufacturers to cater to consumer palates with frozen food of both ready-to-cook and readyto-eat types. Also these packs save time and money spent on restaurant visits. This business is sure to become popular in the AsiaPacific region just as it did in the American and European markets. The frozen food industry is well worth investing in
How to Start a Frozen Food Business
Starting a frozen food business is fairly simple and can be done with very little overhead. However, it will take some planning, as several different kinds of frozen food business models are in the marketplace. This article will help you choose one that suits you and develop a delivery method and a marketing plan so you earn a solid reputation that, in turn, will result in residual income for you in the future.
Choose your products. Virtually thousands of foods are sold frozen. From pizzas to pickles, the gambit is being covered by many. This means you will likely never be all things to all people. However, it also means opportunities to specialize are ample. Choose products that are simple to obtain and market at first. If you have a recipe of you own, you may start there. If you do not, look for wholesalers that sell unique products that are not currently available in your area.
Internet Sources
British Frozen Food Federation
Trade association for frozen food industry. Useful website for information on technical know how,
legislation, statistics, annual awards, and history and industry news.
www.bfff.co.uk/
Chilled Foods Association
Trade association for chilled food manufacturers. Have a member's directory, technical factsheets,
industry news, product development and useful links page
www.chilledfood.org
Foods for Trade
It's a free marketplace for food manufacturers, exporters, importers, and distributors. They serve as online
portal for food companies to introduce and advertise themselves in front of potential buyers.
www.foodsfortrade.com
Food Storage and Distribution Federation
Site of the trade association for the food logistics industry in the UK. Offers news, events, a list of
members, and a selection of publications for sale.
www.fsdf.org.uk
The Ice Cream Alliance
A forum for suppliers, retailers, caterers and manufacturers of ice cream products in the UK. The ICA
publishes 'Ice Cream' - industry monthly magazine and organises the annual trade conference, exhibitions,
competitions and regional social events. The site includes a detailed links page of ice cream producers and
retailers in various regions of the UK who have web sites.
www.ice-cream.or
ANKO began by selling frozen food processing equipment to HPW Group., Uni-President Enterprise Corp., Taisun Enterprise Company Ltd., I-Mei Foods Co., Ltd, which are the leading frozen food manufacturers in Taiwan. After 30 years of experience, ANKO owns 70% of the frozen food processing equipment market in Taiwan and has also sold them to more than 106 countries. Equipment flexibility and adaptability is critical for tackling new and expanding applications in a cost-effective manner. With ANKO's frozen food processing equipment design, every little factor is considered consist of raw material section, production section, seasoning section, packing section and optional equipment selection.
With filling and forming machine for frozen food customization, you can just simply change the mold to manufacturer foods with several of shapes and also create different textures of wrappers from dough. Filling and forming machine is great for making pastas, pies, curry puffs, egg rolls, ravioli and samosas, etc. Encrusting machine's dough transmitting system is especially designed for making bi-color foods to cutting labor costs. Its separated motor and inverter control system is suitable for food that requires stuffing and encrusting such as kubbas, arancinis, moon cakes, cookies, buns and meat pies, etc. Packaging machine is designed to pack finished food after freezing, and every packaged frozen food is ensured to meet food standards without contaminations.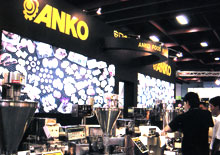 ANKO's frozen food processing equipment experience has become their beneficial service; their food innovation has brought business opportunities to their clients and that's something you can't get from an ordinary machine supplier. Any food you would like to make, you name it! ANKO's large database contains every recipe from all over the world. When you walk in to procure frozen food processing equipment, you get a precisely designed machine, and the food tastes authentic. At ANKO, frozen food processing equipment is customized in order to produce food that meets the client's requirements, including food taste, wrapper thickness, food size and shape, stuffing ingredients, production capability, certification, plant size, etc. ANKO's frozen food processing equipment has been exported to different countries with management software for accurate processing and quick changeovers; modular designs that smooth line modifications; and quick-connect hardware to minimize tools and speed maintenance and production changeovers. The frozen food processing equipment is capable of making 10,000(16g) / 30,000(2g) dumplings per hour.
Frozen Food Packaging Turn-Key Project Design
ANKO provides their customers with frozen food packaging turn-key project designs. Based on ANKO's 30 years of experience, every frozen food packaging turn-key project is customized to meet owner's requirements. With the assessments on plant size, production capacity and food manufacturing procedure, the food manufacturer will receive a productive and money-saving proposal. In the future, if they need to increase frozen food processing equipment's production capability, engineers will adjust the machine depending on its design or recommend suitable substitutes. For food recipes, ANKO's international experience has allowed them to respond fast to food manufacturers' requirements and provide recipes even for ethnic or international foods. When designing a forzen food packaging turn-key project, electrical voltage is customized for the region, and the range is from 100 to 440 volts. ANKO provides frozen food processing equipment with excellent motors and electronic accessories, which are made in Japan and Germany (FUJI, MITSUBISHI ELECTRIC, and Siemens). Every year, ANKO's annual supplier evaluation system effectively assesses every supplier's product quality and service to ensure their supply chain is solid. ANKO is not only a frozen food processing equipment provider but also a turn-key project design integrator with total solution.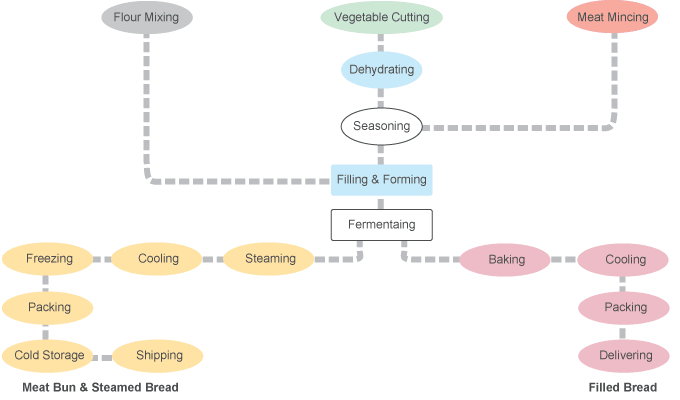 Plant Layout
Dumplings, Gyoza, Ravioli
Dumplings:
there are diverse names for the different kinds of dumplings around the world. In Japan, they're called gyoza; in Korea, they're referred to as mandu; in India, they are called Gujia; in Spain, they're known as empanada; in Italy, they're called ravioli; in Russia, they're called pelmini; in Poland, they're called pierogi and in Uzbekistan, they are referred to as manti. ANKO's food filling machine has been exported to different countries with dynamic mould designs, and the machine is capaple of making 10,000 (16g) and 30,000 (2g) dumplings per hour. Other than dumplings, popular Chinese food also includes spring rolls, siomais, dumplings, buns, stuffed parathas, steamed buns, etc.
ANKO
is a food innovator who provides their frozen food processing equipment to buyers with updated recipe-selection from time to time based on their international food experience. Currently
ANKO
is working on providing educational food which is made of organic ingredients in several shapes. They are shapes of animals such as fish, turtles, rabbits or English letters with different colors that are made of carrots, spinach, pumpkins and cuttlefish, etc.
ANKO
believes people nowadays are pursuing more healthy and convenient food; ANKO's supply of food ideas provides their clients with various options to make their business become more successful.
If your frozen food processing equipment requires certifications,
ANKO
is capable of making CE certified machines to meet Europe's high standards of machine safety, or JIS approved machines for ensuring the food quality.
The mass consumption of agricultural produce for use in biofuels has resulted in unbalanced. ANKO's food processing machine provides a solution for the future. Robert Ou-young from ANKO FOOD MACHINE CO., Ltd., one of the most successful Taiwan food processing equipment suppliers, claimed.
Value-Added After Service for ANKO Food Making Machine
Even after
ANKO
stops selling a certain model of frozen food processing equipment, it is ensured that machine parts will be available for the next 10 years. In addition, ANKO's offices are located everywhere in the world, which allows their clients to reach them in a short time.
International Food Making Machine Experience From 106 Countries
ANKO's clients are from everywhere in the world; they have sold frozen food processing equipment more than 106 countries.